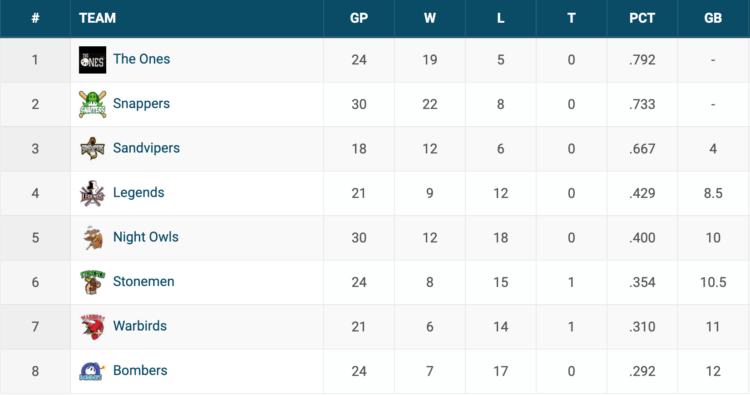 Each Premier League Wiffle® manager submitted their power rankings based on how good they think each team is right now, halfway through the summer season. A first place vote is worth eight points, and a last place vote is worth one point. There were ties for first place and last place, which had to be broken by a poll of non-managers. Here are the results:
#8* Stone Men (17, 4 last place votes):

The Stone Men were ranked last in the preseason poll with just 12 points, and find themselves tied for last in the mid-season power rankings. They sit at 8-15-1, and they've improved from last season's squad that finished with a 9-32-1 record, but they're still struggling to stay in the playoff race at the halfway point. First round draft pick Tyler Willinsky has been a valuable addition to the Stone Men lineup, along with their core of manager Levi Lawrence, Austin "Bird" Bull, and Jimmy Talamantez. The Stone Men are still looking for a consistent fifth hitter to round out the lineup, and Lawrence has thrown the majority of the innings (52 ⅓ / 103) for his team because they still lack a true number two pitcher behind him. Bird and Willinsky have shown they have good stuff, but neither has enough command to pitch deep into games. Unless the Stone Men improve their rotation, whether it be through developing their current players, making a trade, or seeking free agents, they're gonna get smoked.
#7* Warbirds (17):

The Warbirds finished sixth in the preseason poll, and they're 6-14-1 so far this season. All-Star Matt "Mattlanta" Petrikas has had a slow start this season at the plate, first round pick Chris Gschwender went down with an injury, and they've only had Peter Mocabee for two series' thus far. KJ Lacroix has been a bright spot in the lineup, batting just under .300 with a 1.026 OPS, and Jim Dodos has been at every game, batting .338 with 8 HR and 17 RBI, but Nate Serisky and manager Chris Warfield have both struggled at the plate all season. Mattlanta, Dodos, and Moc form a formidable pitching rotation, but the Warbirds haven't given them enough run support, as they're in last place in nearly every offensive category as a team. If the Warbirds don't improve offensively, they're gonna take a nosedive.
#6 Bombers (19, 2 last place votes):
The Bombers finished fourth in the preseason poll, but after a 1-8 start to the season, and another big trade, they find themselves in last place with a 7-17 record. Manager TJ Brown stepped down, and was replaced by the Night Owls' Alex Carrasco. Along with Carrasco, the Bombers received his father Alain Fernandez, as well as brothers Max & Mateo Fernandez. Ace Brandon Maio, and spring tournament MVP Randy Dalbey both went to the Night Owls in this three-team blockbuster deal, but the Bombers still have last year's home run king Hollis "Hollywood" Hale, Brian "Uncle B" Puter, CJ Peterson, Bruce Huson, and a pair of rookies in Ryan Nickell and Trevor Bauer. Their team is still developing chemistry, and they still don't seem to have their lineup or rotation quite figured out either. The Bombers have lots of potential, but they'll have to really explode during the second half of the season to avoid relegation play.
#5 Legends (29):
The Legends were ranked seventh in the preseason poll, and they've worked their way up to the number five spot in the mid-season rankings with a 9-12 record. Rookies Derrik Corral and Alex Garcia have both hit the ball well, improving upon an already strong lineup, and first overall pick Chad Phillips has stepped into the ace role, taking some of the pressure off of Billy Osgood. Osgood has improved his batting numbers as well, hitting just under .400 with a 1.463 OPS, 7 HR, and 15 RBI. Jason Stephenson, Nick Sansone, Tony Garay, and Casey Taravella return from last year's squad, and they've picked up right where they left off. If they can add some pitching depth without taking a step back offensively, they could make a legendary playoff run.
#4 Night Owls (39):

The Night Owls were the top ranked team in the preseason poll, but they come in at number four in these mid-season rankings with a 12-18 record. After foregoing the draft, Night Owls manager Nick DiVella traded nearly half his roster away for Bombers' ace Brandon Maio, and tournament superstar Randy Dalbey. With reigning CY Young award winner James Stein as only a part time player, and Maio unable to attend every series, the Night Owls have missed the arm of Carrasco, but their lineup has become more potent with the returning core of DiVella, Matty Levine, and Barry Hutter, to go along with AJ Petrovsky, who was unable to play enough games last season for playoff eligibility. The Night Owls pitching staff has struggled with control, although Hutter has had some strong outings recently, and they signed Sesaí Sessae from the Taco League. As long as the Night Owls have Stein and Maio down the stretch, they'll be perched near the top of the standings at the end of the season.
#3 Sandvipers (53, 2 first place votes):

The Sandvipers placed third in the preseason rankings, and here they are at number three still at the midpoint with an 12-6 record. Rookie Mitch Burner has been red hot as of late, and the Sandvipers landed former Bombers manager TJ Brown in a three team trade early in the season. With a returning core of manager Adam Tanic, Tom Gannon, Trench Picone, Casey Herzog, and Jason Walker, they've also bolstered their offense with the addition of free agent Nick Hamelin. While they haven't been nearly as dominant as they were during the spring season, the Sandvipers seem to have a stranglehold on a playoff spot.
#2* Ones (57, 3 first place votes):

The Ones have brought their entire spring roster back this summer with the additions of first round pick Andrew Ledet, and free agent Justin Spurrier. Their lineup comes back even stronger this season, with a pair of strong rookies, and a full season under their belts. Manager Ryan Chen has been devastating batters with his slider / screwball combo, all-star pitcher Cody Schmidt has come back with even more bite on his curveball, Adam Koutz is offering a different submarine look, and both rookies are left handed pitchers that can find the strike zone as well. With five pitchers tossing to an ERA in the single digits, and five batters with an OPS north of 1.000, it's no surprise The Ones are tied at number one with a 19-5 record.
#1* Snappers (57, 3 first place votes):

The defending champion Snappers are led by reigning MVP Taylor Bryner, and Bryner is having another MVP season thus far. He and Shane Weber have been a dynamic duo at the top of the order, with 24 and 13 home runs respectively. Jonathan Wilson has cemented himself as the number three starter on the team, and they've been firing on all cylinders. The only adversity they've faced so far this season is attendance, but they've been winning games even when short handed. With a 22-8 record, this team would have to snap to miss the playoffs.
*tied
Check back in at the end of the season to see how these rankings compare to the final standings!