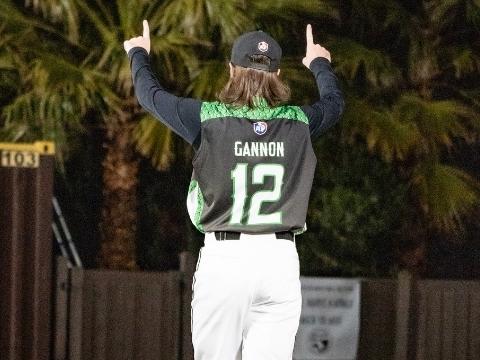 We're one-sixth of the way through the PLW spring 2022 regular season, so it is more than an understatement to say that the season's landscape has a while to pan out. Nonetheless, certain players have been putting on a show and making their cases to win specific awards. The diversity of teams encompassed in these awards predictions has been astounding, but understandable, given this season has been PLW's most competitive to date.
Therefore, without further ado, here are my way-too-early awards predictions for the spring 2022 PLW season.
Most Valuable Player
Normally, this conversation would be dominated by three-time reigning MVP Taylor Bryner. Bryner, who has a cast on his broken left arm, had been aiming to hit .350 this year using an unorthodox one-handed swing. This optimism sadly has not panned out for Bryner thus far, and he is only hitting .194 with the Snappers opening the season with an unusually bad 3-6 record.
With Bryner facing these struggles, the MVP race is wide open for the first time in a long time, so let's get into it
Andrew Ledet, Cajuns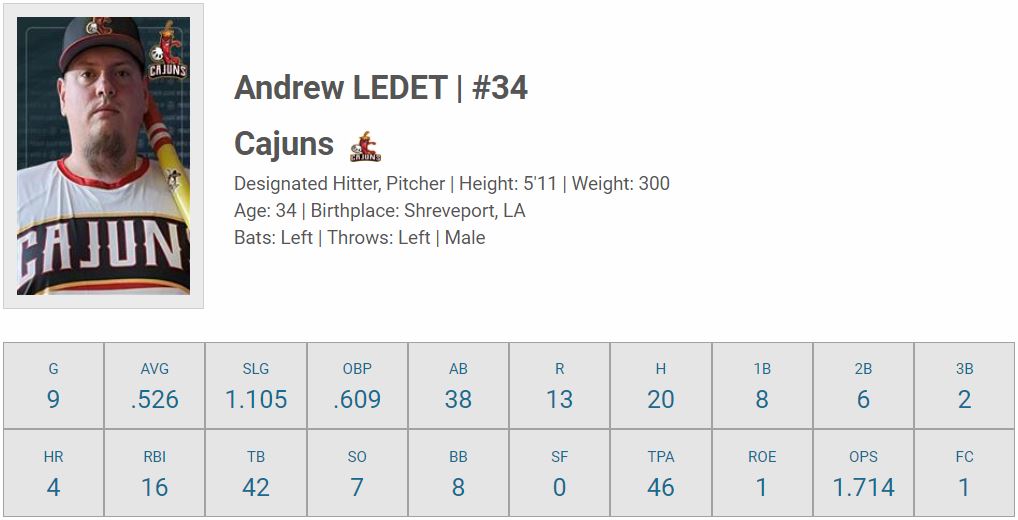 Hitting: .526/.609/1.714, 4 HR, 16 RBI
Pitching: 1-1, 2.16 ERA, 1.68 WHIP, .200 opponent BA, 8.1 IP
Andrew Ledet can flat out hit. Right now, he leads the league in average, OBP, RBI, hits, runs, and doubles. But he doesn't stop there. He is second in slugging percentage and OPS behind everyone's favorite Warbird, Jim Dodos. It is clear to me, however, that Ledet is the best hitter in this league. What separates Ledet from guys like Dodos, Bauer, and Ibarra is the incredible consistency at the plate. It is as though this type of hitting prowess has almost become expected from him. He is one of the few guys in the league where I don't expect any pitcher to get him out when he is at the plate.
Still, Ledet has a few shortcomings, mostly on the pitching side. He has appeared in 5 games on the bump but only has a 1-1 record with no saves. His 2.16 ERA is solid, but he doesn't make as much of an impact for the Cajuns' pitching staff as Ryan Ruesch and even Sashi Bobba. This lack of pitching dominates further emphasizes the importance of Ledet keeping up his hitting numbers, but he would have a much easier path to MVP if he could become an ace or even the number 2 arm for the Cajuns.
Jim Dodos, Warbirds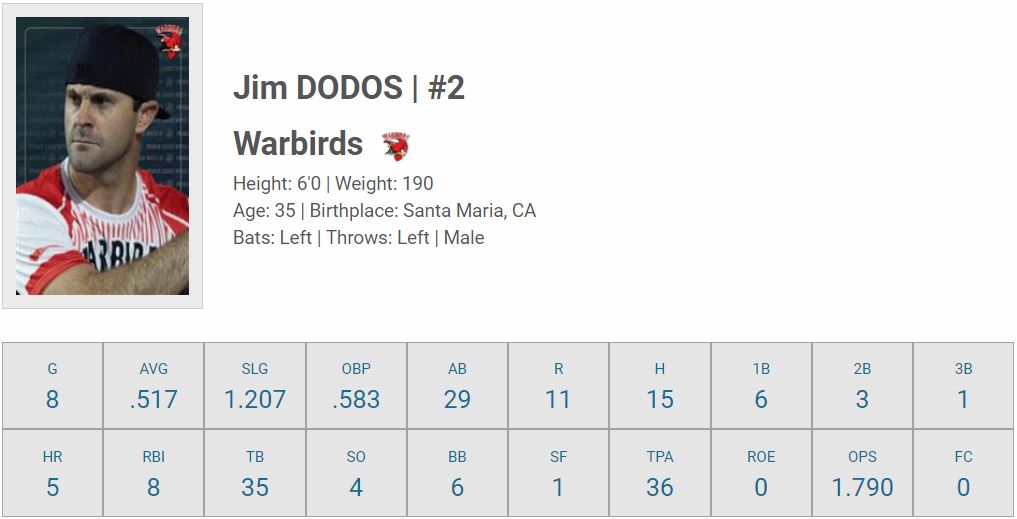 Hitting: .517/.583/1.790, 5 HR, 8 RBI
Pitching: 2-1, 2.82 ERA, 1.29 WHIP, .239 opponent BA, 17 IP
Dodos' MVP case looks very similar to Andrew Ledet's. Him and Ledet are battling for the league lead in average, OBP, slugging percentage, and OPS, with Dodos leading the league in slugging percentage and OPS. He currently has a slight power advantage on Ledet, with Dodos' 5 home runs tying him for third in the league. Him and Ledet both carry their teams offensively, and it is almost to the point where it is nearly impossible to differentiate the better hitter is at this point. I personally would take Ledet due to his consistency and ability to do well against great pitching, but Dodos is a very close second.
Dodos also has a great opportunity to pass Ledet in the MVP race. Unlike Ledet, Dodos leads his team in innings pitched. It was difficult to put him at the top of my MVP ladder with his ERA creeping almost into the threes, but a few good starts should make those pitching stats look elite. Dodos also had a stellar first week of the season, so the only real concern of mine is his ability to keep those numbers up throughout a full 54-game season.
Tom Gannon, Sandvipers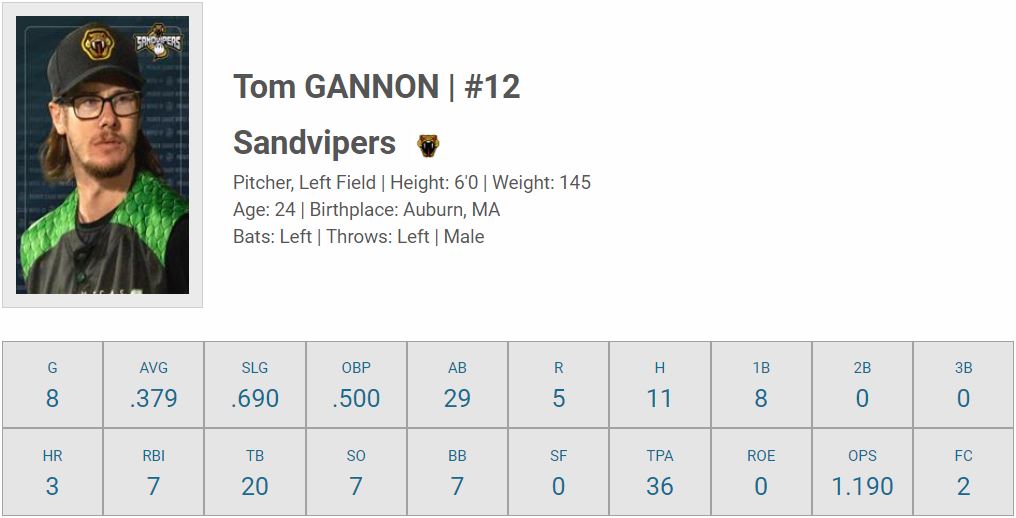 Hitting: .379/.500/1.190, 3 HR, 7 RBI
Pitching: 3-0, 1.69 ERA, 1 SV, 0.89 WHIP, .177 opponent BA, 21.1 IP
Tom Gannon seems to always fly under the radar in these MVP conversations, and I'm not sure why. Gannon is a perennial Gold Glover, he's currently tied for the league lead in wins, has been as dominant on the mound as just as much anyone, and has been a consistently dominant hitter. Gannon's offensive numbers don't jump off the page as much as Ledet's and Dodos', but I want to draw your attention to the difference between his .379 average and .500 OBP. Not only does Gannon get hits, but he draws walks. Coaches always tell you when you're younger that a walk is as good as a hit, but with the PLW walk rule, walks are better than hits. Gannon's eye helps get pitchers out of the game, making him an even bigger asset for the Vipers.
For Gannon to win MVP, he's going to need to get his power numbers up. Being a good hitter will not put him on par with the likely greatness that will be seen in the end-of-year numbers of Ledet, Dodos, and possibly even Ryan Chen. Furthermore, he'll have to establish himself as the Sandvipers' ace while also continuing to outshine Adam Tanic on the mound.
Honorable Mentions:
Ryan Chen, The Ones
Hitting: .379/.472/1.507, 5 HR, 13 RBI
Pitching: 1-2, 1.80 ERA, 1.13 WHIP, .189 opponent BA, 13.1 IP
Billy Santiwan, Vaderz
Hitting: .350/.395/.820, 0 HR, 3 RBI
Pitching: 3-0, 0.69 ERA, 1 SV, 0.50 WHIP, .114 opponent BA, 26 IP
Cy Young
The Las Vegas weather has been chilly to start the season. The ball has not been travelling well, so fly balls that may get out in a few months are turning into routine pop-ups. Because of this pitcher-friendly weather, a multitude of pitchers have put up incredible numbers to start the season. It was almost impossible to choose the top candidates, but after some tough cuts, I have my final list.
Billy Santiwan, Vaderz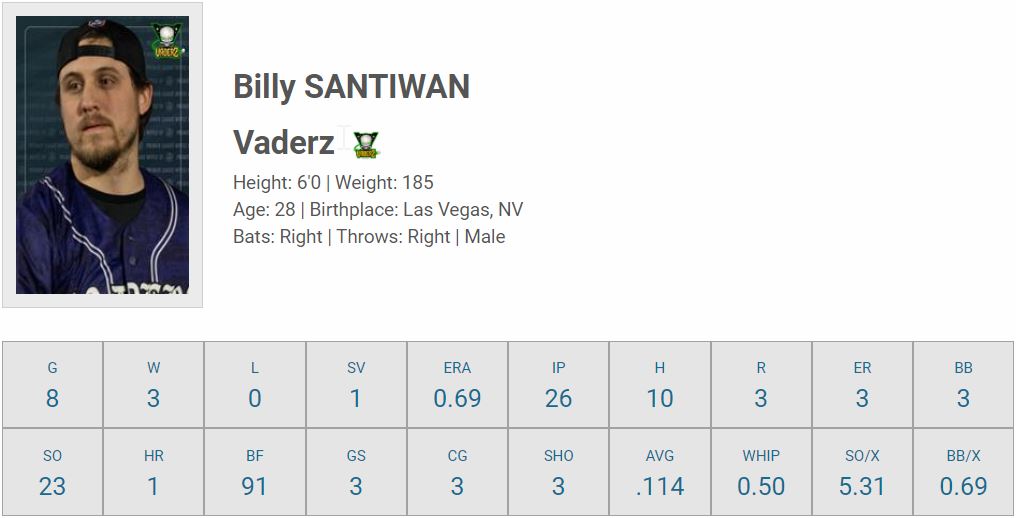 3-0, 0.69 ERA, 1 SV, 0.50 WHIP, .114 opponent BA, 26 IP
On February 15, Billy Santiwan had a rough outing in game one of The Ones @ The Vaderz series. He gave up 3 runs in 0.2 innings. Outside of game, Santiwan has pitched 25.1 innings and has not given up a single run.
Through the first 9 games of the season, Santiwan has already pitched three complete game shutouts, including one against the Sandvipers and another against The Ones. Santiwan on the mound is becoming must-see TV, and his signature knuckle ball has been making hitters looking foolish all season. When he is on, which is almost always, he has looked completely unhittable. I would not be surprised if he managed to pull out twenty wins this season with an ERA below 1.00, and as of right now, I don't know who has an opportunity to challenge him for the Cy Young award.
The Ones should take pride in scoring three runs off Santiwan and walking him out of a game, because as of now, that single inning is the only time he's seemed vulnerable or even hittable. Billy Santiwan is currently the best pitcher in PLW and it's not close.
Tom Gannon, Sandvipers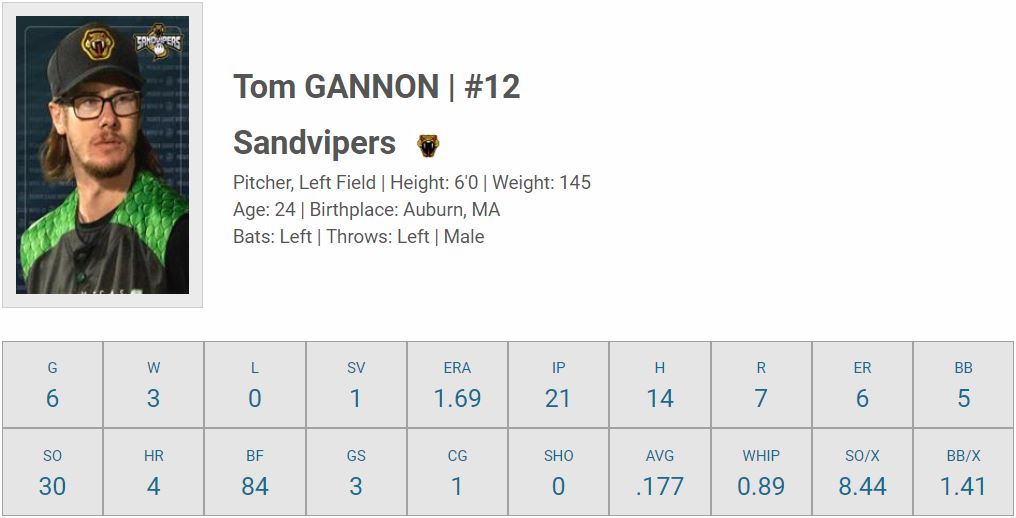 3-0, 1.69 ERA, 1 SV, 0.89 WHIP, .177 opponent BA, 21.1 IP
Some readers may disagree with my opinion that Tom Gannon is a top MVP candidate, especially with the numbers that Ryan Chen is putting up. However, you cannot disagree that he is a top Cy Young award candidate. Like Santiwan, he's a perfect 3-0 with a save, a WHIP below 1.00, and an opponent batting average below .200. Gannon's ERA is also approaching 1.50 as the ace for the Sandvipers, which is excellent (even if Santiwan's 0.69 ERA makes it look not as great). Gannon's season on the mound so far can be encompassed by him being in Santiwan's shadow, but all it takes is a few bad starts from Santiwan for Gannon's consistent greatness to put him on the top of the Cy Young ladder.
Adam Tanic, Sandvipers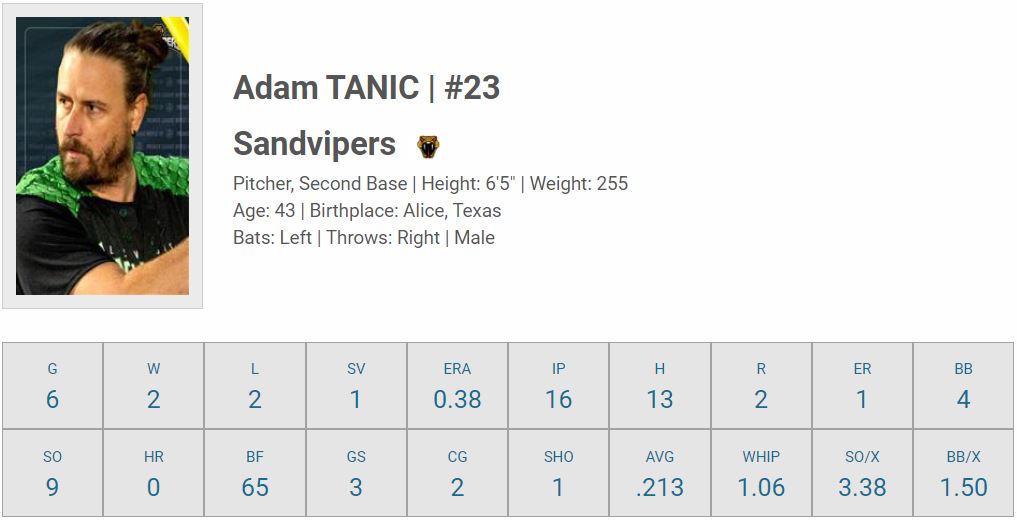 2-2, 0.38 ERA, 1 SV, 1.06 WHIP, .213 opponent BA, 16 IP
It pained me to put Tanic this low, but once I looked past his ERA, it made more sense. Looking at Tanic's ERA, you would probably ask me why he's below Gannon on my Cy Young ladder. After all, wins are more based off run support than pitcher success, and Tanic does have the lowest ERA in PLW. So why is he lower?
Every other stat besides ERA and record, then stack Tanic up to Gannon. They both have one save, but opponents have a higher batting average off Tanic, Tanic gives up more baserunners per inning, and Tanic has thrown fewer innings than Gannon. Then you add Gannon's 3-0 record in there to Tanic 2-2 record, and even with Tanic's much lower ERA, it becomes clear that Gannon is the current Sandvipers ace.
So yes, I had to put Tanic in here because he has thrown a lot of innings and put up a league-leading ERA. I still, however, could not put a team's number two pitcher above their ace for Cy Young voting.
Honorable Mentions:
Max Fernandez, Bombers
2-2, 1.64 ERA, 0.77 WHIP, .162 opponent BA, 22 IP
Trench Picone, Legends (acquired from Sandvipers)
2-0, 1.29 ERA, 1.21 WHIP, .218 opponent BA, 14 IP
Rookie of the Year
This year's rookies have been huge for increasing the competitiveness of the league. With guys like Josh Towers being thrown into the ace role on their teams and a multitude of rookies being asked to quickly become weekly players, we have a large pool of active rooks to choose from. Ethan Ibarra seemed to have this award on lock, but after reaching out to Commissioner Tanic, it was confirmed that Ibarra is not considered a rookie. Now, the Rookie of the Year award is wide open as well, and some early favorites have begun to establish themselves
Will Morris, Cajuns
Hitting: .258/.410/.991, 2 HR, 9 RBI
Pitching: 0-1, 2.00 ERA, 1.17 WHIP, .160 opponent BA, 6 IP
Although his batting average may not show it, Will Morris is having an enormous impact for the Cajuns, both offensively and on the mound. Morris' .410 OBP is very high, especially for a rookie, as well as his near-1.000 OPS. However, the .152-point disparity between his batting average and OBP is most impressive to me. Morris has an exceptional eye at the plate and is drawing walks in a veteran manner, getting pitchers out of the game and setting the table for Andrew Ledet. His two bombs and 9 RBI also exhibit his power, which will hopefully continue to grow as the season continues.
On the mound, Morris has not pitched an exceptional amount. Still, when he has pitched, he has been good. Record aside, he has a 2.00 ERA in his few innings thus far, but hitters are batting a staggeringly low .160 against him when he is pitching. I would not be surprised to see Morris take a bigger role on the Cajuns' staff, especially if hitters continue to have trouble seeing him.
Overall, Will Morris is laying the groundwork to become a dominant two-way player in this league.
Cody Runnalls, Lightning
Hitting: .361/.378/.767, 0 HR, 3 RBI
Pitching: 0 IP, 2 walks, 1 ER (infinite ERA)
Cody Runnalls has an interesting case for Rookie of the Year case. In his only game on the mound, he walked out and gave up a run before he was able to record a single out. He is on a Lightning team that seems like it will be in a relegation battle unless Devlin Daniel, Jayk Purdy, and Kyle Loman can be absolutely lights out. His power numbers are pretty bad.
But he's hitting .361 as a rookie. While being tied for the team lead in at-bats.
You don't walk into PLW and casually hit .361. This league has great pitching, as demonstrated by the previous Cy Young analysis, and Runnalls is making base hits look easy. Maybe he doesn't have the overall impact this season to compete with Morris for Rooke of the Year, but his batting average is indicative of someone who will become an incredible hitter as his career progresses.
James Perez, Warbirds
Hitting: .294/368/.780, 1 HR, 4 RBI
Pitching: 0-0, 0.00 ERA, 0.00 WHIP, .000 opponent BA, 0.1 IP
James Perez can best be described as a poor man's Will Morris. Perez's pitching numbers look incredible until you realize he has only thrown 1/3 of an inning, basically putting him in a weird purgatory between Morris and Runnals. You don't trust him as much as Morris to go in and get outs, but he still is apparently capable of getting an out, unlike Runnals. His pitching career so far is honestly not worth further analysis. And with that, to the hitting!
Perez's average of .294 is very impressive for a rookie. Although it is lower than Runnals' .361, he still entered the league as a borderline .300 hitter, which is quite an impressive accomplishment. However, out of my three top Rookie of the Year candidates, he has the lowest OBP, and his power numbers are not enough to make up for that OPS disparity with Morris and average disparity with Runnals. Nonetheless, if Perez keeps his average up and begins to get his home runs and RBI up, he will easily pass Runnals on my Rooke of the Year ladder. And if he somehow starts pitching, he may even be able to give Morris a run for his money.
Honorable Mentions:
Marc Tavano, Sandvipers
Hitting: .267/.353/.820, 1 HR, 5 RBI
Pitching: N/A
Josh Towers, Night Owls
Hitting: .226/.250/.605, 1 HR, 3 RBI
Pitching: 2-1, 5.32 ERA, 1 SV, 1.77 WHIP, .319 opponent BA, 14.2 IP
*Jordan Robles, Sandvipers
Hitting: N/A
Pitching: N/A
Hit a walk-off home run to win PLW $2,500 Tournament with Night Owls
Formerly ranked number 1 wiffle ball player in the country by The Drop
Started wiffle ball tattoo trend among fast-pitch players
If you got through all those predictions, props to you! I'm sure nearly everyone will have a few disagreements about my lists, but thankfully, I love discussing wiffs. You can find me on Instagram and Twitch @evanshields98, and I am almost always in the PLW Twitch stream every weeknight at 6 PM PST. I hope everyone is looking forward to the rest of the season as much as I am!