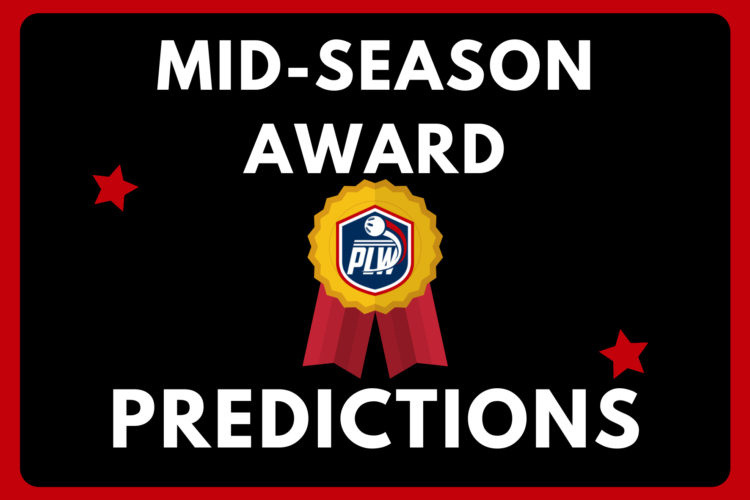 After Week 9, we're exactly halfway through the Spring 2022 season of Premier League Wiffle and the playoff race is heating up. The Sandvipers, Legends, Bombers, Cajuns, and Night Owls are all within one game of each other in the 3 through 7 spots in the standings, and an increasingly healthy Taylor Bryner may see the Snappers sneak into contention soon.
But I'm not here to talk about team success. I'm here to talk about individual success. Prepare for a lot of analysis because I am going to be looking closely at all five of my top candidates for each award. So, without further ado, here are my predictions for (what I consider to be) the most important awards.
Most Valuable Player
I feel the need to preface this section by saying my MVP list is admittedly a little hitter-heavy. Although my very early awards predictions focused more on two-way players for MVP, the distinction between elite hitters and elite pitchers has slowly been established through the past weeks. With higher quality players coming into the league, there seems to be more specialization of roles this season. Gone are the days of Adam Tanic and Taylor Bryner carrying a team's pitching staff and lineup to a championship. Teams now need to find an elite bat and an elite arm, and that differentiation leads to the best hitters often not having the best pitching stats. Therefore, should a player be among the top of the league in both hitting and pitching, that success is now much more admirable than it was even at this time last year.
Ryan Chen, The Ones
Hitting: BA: .413 OBP: .505 OPS: 1.341 HR: 9 RBI: 29
Pitching: Win-Loss Record: 5-3 Saves: 2 ERA: 1.88 WHIP: 1.15 IP: 38.1
I haven't heard it mentioned once on a broadcast this season, but Ryan Chen is quietly running away with MVP. He's currently the only player in the league with a batting average over .400 and an ERA under 2.00, not to mention he leads the Ones in batting average, home runs, RBI, OBP, OPS, ERA, WHIP, and opponent batting average. Considering the Ones likely have the most stacked lineup and pitching staff in the league, as well as likely being this season's championship favorites, leading in every major category is even more impressive.
When looking at all of PLW, Chen is in the top 5 in every major hitting category; he is fourth in batting average, third in slugging percentage, third in OBP, second in OPS, fifth in hits, fifth in walks, tied for third in RBI, and tied for fourth in home runs. Oh, and he leads the league in triples. From a pitching standpoint, Chen is fifth in PLW in ERA and tied for fourth in saves. It should be clear to everyone after seeing these numbers that nobody is even close to matching up with Chen right now as an all-around player, and he deserves to not only be in the MVP talk but lead mid-season MVP voting by a wide margin.
Andrew Ledet, Cajuns
Hitting: BA: .439 OBP: .529 OPS: 1.241 HR: 7 RBI: 29
Pitching: Win-Loss Record: 3-1 Saves: 0 ERA: 3.82 WHIP: 1.91 IP: 22
Ledet is coming off a good start against the Vaderz that was eviscerated by his bullpen and trademarked awful Cajuns fielding, but his pitching numbers aren't anything eye-opening. As usual it is Ledet's contact hitting that has propelled him to this spot. At this rate, he's on his way to another batting title while leading the league in OBP and singles. Nonetheless, his power numbers are still solid, as he is tied for Chen for third in RBI while also blasting 7 home runs in the first half, including a shot off Cy Young frontrunner Billy Santiwan. Considering Ledet's consistency at the plate, I don't see his hitting numbers getting any worse. Moreover, based on his pitching performance against a strong Vaderz lineup, I can imagine that ERA dropping fast as he begins to eat more innings. Moreover, the Cajuns could find their way into the playoffs, and if Ledet leads them on a deep run, he could establish himself as the most dominant player in PLW.
Jim Dodos, Warbirds
Hitting: BA: .436 OBP: .500 OPS: 1.449 HR: 10 RBI: 17
Pitching: Win-Loss Record: 2-6 Saves: 0 ERA: 4.17 WHIP: 1.71 IP: 31.2
A lot of people may be confused why I didn't put Dodos before Ledet, considering Dodos is likely the most feared hitter in the league. Simple answer: the Warbirds suck (sorry, Warchicken). His numbers were slightly better than Ledet's, but the margin was not wide enough to put a player on a last place team above a player leading a true contender.
Anyways, back to Dodos' numbers. His win-loss record and ERA are representative of the Warbirds' struggles this season, but I will give him some credit. He is second on the team in innings pitched, so he's at least eating innings without getting shelled egregiously hard; his 4.17 ERA is bad, but it definitely could be worse. At the plate is where Dodos really shines, as he is probably the best hitter in the league. He leads the league in slugging percentage and OPS, and he is second in batting average as well as being tied for second in home runs. His lack of RBI is more due to the fact that no one else on the Warbirds gets on base than anything else. So, Warbirds, you want Dodos to get more MVP respect? Win more than 9 games in the second half.
Justin Hicks, Sandvipers
Hitting: BA: .417 OBP: .508 OPS: .1332 HR: 10 RBI: 35
Pitching: Win-Loss Record: 0-2 Saves: 0 ERA: 7.31 WHIP: 2.81 IP: 10.2
Justin Hicks is a bad pitcher, so let's just ignore those pitching numbers. Right now, Hicks is the offensive spark plug for a Vipers team that, for a Vipers team, is having some trouble. With Tanic in a slump, then suspended, then on an international vacation with his broken bat, Hicks has become the offensive leader for a Vipers team who badly needed one. He leads the Vipers in all major hitting categories (overage, OBP, slugging, OPS, home runs, RBI, and total bases), and he leads PLW in RBI and doubles. He's also second in hits, tied for second in home runs, third in batting average, and top 5 in OBP, slugging percentage, and OPS. And I haven't even mentioned that he is the best defensive infielder in the league with an absolute cannon for an arm. So even with those awful pitching numbers, he's still on this MVP list for good reason.
Ethan Ibarra, Vaderz
Hitting: BA: .376 OBP: .425 OPS: 1.271 HR: 15 RBI: 34
Pitching: N/A
Putting Ibarra in here over two-way players like Gannon and AK was a difficult decision. Ibarra doesn't pitch at all, but he is the power behind an explosive Vaderz offense, with an emphasis on power. His contact numbers may not seem MVP worthy, but he leads PLW in home runs and is a very close second behind Hicks in RBI. He also leads the league in total bases and is second in hits, second in slugging percentage, and fourth in OPS. If he hits 30 home runs, it is going to be difficult to keep him out of the MVP conversation at the end of the year. He's also easily the Vaderz best defensive player and a dark horse for a Gold Glove. And because of the pitcher we're about to talk about for Cy Young, Ibarra being a fantastic offensive and defensive player is enough to keep him in the MVP conversation.
Cy Young
Billy Santiwan, Vaderz
Win-Loss Record: 9-0 Saves: 5 ERA: 1.17 WHIP: 0.71 IP: 71.2
I can keep this short because the Cy Young is Santiwan's award to lose. He leads PLW in wins, saves, WHIP, shutouts, and innings pitched, and he is second in ERA by a tiny margin. He also still has not lost a decision. He has been the most dominant pitcher in the league by an unbelievably wide margin this year, throwing the second perfect game in PLW history and first in the six-inning format. The most shocking part of this to most readers will be that he doesn't currently lead the league in ERA, as his 1.17 ERA is chasing Maio's 1.13. Still, Santiwan is the very clear Cy Young favorite, and I don't think anyone would dispute that.
Tom Gannon, Sandvipers
Win-Loss Record: 7-0 Saves: 1 ERA: 1.53 WHIP: 1.01 IP: 58.2
He's no Billy, but Gannon has saved the Vipers pitching staff this season. Out of the guys who have thrown 25+ innings on the Vipers this season, Gannon is the only one with an ERA below 3.70, and he is sitting at 1.53. Teams are hitting well over .300 against every Viper pitcher except Gannon, who is holding hitters to a .206 average. Gannon is also fourth in PLW in innings pitched, third in ERA, third in WHIP, third in strikeouts, tied for second in wins, and is also yet to lose a decision. He's also the only pitcher with a sub-2.00 ERA to rank in the top 5 in strikeout rate. Without Gannon's pitching, the Sandvipers wouldn't be in third place, and I think there's a strong argument to be made that they would be in last place. But thankfully for Tanic, he's got the most trustworthy southpaw in the league to put the entire pitching staff on his back.
Brandon Maio, Warbirds
Win-Loss Record: 6-3 Saves: 1 ERA: 1.13 WHIP: 1.00 IP: 53
From a pure statistical perspective, ERA is the most important stat for a pitcher. Wins and losses are often defined by run support and even bad fielding, but ERA is the purest measure of the quality of a pitcher. And Brandon Maio leads PLW in ERA. When the trade that sent Maio to the Warbirds was announced during the Vaderz-Cajuns series, viewers called Maio a "small name" without realizing how critical he was to the Night Owls pitching staff. His three losses make it easy to discount him in comparison to Santiwan and Gannon. Still, he leads the league in ERA, is second in WHIP, second in shutouts, and tied for fourth in wins. Only the best of the best players are putting up numbers like that, and Maio is doing it week in and week out. Adding his shutdown pitching to a Warbirds staff that leans heavily on Petrikas will be interesting, as the Warbirds now have a fearsome ace to go with an MVP-level hitter in Dodos.
Alex Fernandez, Bombers
Win-Loss Record: 5-3 Saves: 0 ERA: 1.89 WHIP: 1.09 IP: 50.2
Brother Max gets tons of love from the broadcasting team for his flashy outings, going out there and striking out hitters like it's nothing. However, the numbers show that Alex is actually the one leading that Bombers pitching staff. Sure, he's got fewer innings pitched. Sure, he doesn't lead the league in strikeouts. Sure, he's only thrown 4 complete games to Max's 6. But if you look closely at the numbers, Alex is one of the best pitchers in the league. He is only 5.1 innings off being top 5 in the league in innings pitched. He is sixth in the league in ERA and only 0.01 ERA point off fifth. He is sixth in the league in WHIP and again only 0.01 WHIP point off fifth. He has the third lowest walk rate in the league. And can I mention again that he has a 1.89 ERA? I know readers may be confused that the Bomber I believe is in the Cy Young race is Alex, but Max's 5-4 record with a 2.54 ERA just doesn't cut it, even if he has thrown 12 more innings and leads the league in strikeouts.
Matt Petrikas, Warbirds
Win-Loss Record: 4-3 Saves: 1 ERA: 2.04 WHIP: 1.30 IP: 56
Now here's my real sleeper. It's shocking to me that the Warbirds are in last place, considering they had a Cy Young candidate in Petrikas and MVP candidate in Dodos all season. Petrikas' numbers aren't very flashy, and the only statistic he is top 5 in is innings pitched. However, if you look at the rest of the Warbirds rotation, Petrikas' importance becomes abundantly clear. He has pitched over a third of the team's innings while maintaining an ERA right around 2. If you look at the rest of the staff, every other pitcher on the Warbirds who has thrown more than 5 innings has an ERA above 4.00. Teams know that Petrikas is the only option the Warbirds have to win games, and the pressure to pitch well was all on him because he knew even a mediocre outing meant a loss. To be put in that situation on a last place team and still have a 2.04 ERA (which is only 0.16 ERA points off fifth) over that many innings pitched is outstanding. Now with Maio in the mix, I can see Petrikas' ERA dropping. That duo will be able to get each other out of jams and leave inherited runners on base, something that Petrikas has not yet experienced this year. Even if neither Maio nor Petrikas catch up to Gannon and Santiwan, that 1-2 combo of Cy Young candidates could turn the Warbirds around in the second half.
Rookie of the Year
Kyle Eder, Vaderz
Hitting: BA: .307 OBP: .336 OPS: .968 HR: 9 RBI: 28
Pitching: Win-Loss Record: 0-0 Saves: 0 ERA: 0.00 WHIP: 2.00 IP: 1.0
I've got to open here by apologizing to Kyle Eder because he should have been first place in my last ROY ranking as well. He wasn't in the most recent draft class, and I wasn't aware at the time that he had played few enough games the year prior to qualify as a rookie. I could take responsibility and say I was lazy with my research, but instead I'll just throw Tanic under the bus for not sending me the full rookie list.
Anyways, Kyle Eder is in fact a rookie, and he is currently my top rookie. He leads all rookies in batting average, home runs, RBI, and OPS; he's also fifth in all of PLW in RBI and tied for second in triples. It's not a debate right now whether Eder is the best hitting rookie; it's whether that hitting is enough to win him to win ROY. Clearly, Eder doesn't pitch much, as he just threw his first career inning in the Vaderz most recent series against the Cajuns. Eder was recently injured and hasn't been fielding as much, and there were even rumors that he would have to undergo season-ending surgery. It appears Eder is remaining in the lineup for now, and even with his production dropping since the injury, he's still easily the most fearsome rookie hitter. However, if Eder's hitting falls off a cliff, or his injury worsens and takes him out for the season, this ROY race is wide open.
Cody Runnalls, Lightning
Hitting: BA: .284 OBP: .328 OPS: .750 HR: 3 RBI: 16
Pitching: Win-Loss Record: 1-0 Saves: 1 ERA: 1.26 WHIP: 1.95 IP: 14.1
The fact that Cody Runnalls is even in contention for this award as the second-to-last pick in the 2022 draft is an amazing feat. But Runnalls doesn't want to be in contention; he wants to win. His average has dropped since our last rankings, but every other aspect of his game picked up. He's still hitting a very respectable .284, and it seems he's finally finding his power stroke. I would expect him to hit far more than 3 home runs in the second half. Still, the most impressive part of Runnalls' game is his sudden pitching prowess. I mentioned in the last awards article that Runnalls was beginning to pitch, and now he's starting to look like a stud on the mound. He has not pitched enough innings yet for his ERA to qualify, but when he does, he will likely be top 5 in ERA. Since becoming a regular pitcher, Runnalls has been a Godsend for the Lightning, capping his impressive recent performances with 4.1 shutout innings in his last outing. Runnalls has quickly become the best two-way player in this draft class. Not bad for a guy most teams forgot about on draft day and was flat out stolen by the Lightning.
Marc Tavano, Sandvipers
Hitting: BA: .264 OBP: .345 OPS: .948 HR: 8 RBI: 25
Pitching: Win-Loss Record: 0-0 Saves: 0 ERA: 0.00 WHIP: 2.33 IP: 3
After a short slump, Tavano is back to his regular ways at the plate. Once you get past the .264 average, his numbers become very close to Eder's. Both players barely pitch but have been successful in their extremely limited outings. Tavano is only one home run and three RBI shy of Eder, and his .948 OPS is only 0.20 behind Eder's. Also, Tavano has a higher OBP than Eder, emphasizing his prowess to draw walks. And we all know how important walks are in this league! If Tavano is able to keep his power numbers up while raising that average, his hitting numbers could surpass Eder's, especially with Eder's injury hampering his production. I doubt Tavano will pitch more considering Tanic is returning soon, but who knows? 10-15 more solid innings on the mound could propel Tavano to the top of the list.
Will Morris, Cajuns
Hitting: BA: .238 OBP: .351 OPS: .864 HR: 6 RBI: 18
Pitching: Win-Loss Record: 1-1 Saves: 0 ERA: 2.50 WHIP: 1.50 IP: 12
If I had to choose a two-way player in this draft class that wasn't Cody Runnalls, it would be Will Morris. He's a worse contact hitter and pitcher, but his power numbers are more impressive. Morris has 6 first-half home runs, and although that may not seem like many, that power must get into pitchers' heads. Morris walks so much that his subpar .238 average becomes a whopping .351 OBP. To put that in perspective, Morris' average is 0.69 points lower than Eder's, but his OBP is 0.15 points higher. Like Tavano, Morris seems to have quickly caught onto the importance of walks in this league, making that .238 average basically meaningless. His hitting numbers don't stand out when looking at PLW as a whole, but they are still very good for a rookie. Moreover, like Runnalls, Morris is finding his groove on the mound. His numbers aren't as good as Runnalls' are, but a 2.50 ERA through 12 innings is often enough to continue pitching, especially considering his low WHIP and the Cajuns' lack of pitching depth. If he is able to get more innings, Morris can establish himself as a very respectable two-way player in this league, and I believe he is well on his way to that regardless.
Cody Giordano, Night Owls
Hitting: BA: .270 OBP: .379 OPS: .338 HR: 0 RBI: 8
Pitching: Win-Loss Record: 0-0 Saves: 0 ERA: 1.64 WHIP: 1.64 IP: 3.2
I honestly am not sure what to make of Cody Giordano. His average was through the roof at one point, and now it's dropped back down to Earth. His pitching numbers are solid, but like Eder and Tavano, he has not thrown nearly enough innings to be able to properly analyze his pitching. Still, he seems like he will be a good contact hitter. Even though his average has dropped back well below .300, his OBP is still near .400. If he has another hot series, that average will fly back over .300 and his OBP will surpass .400 again. However, I am concerned about the complete lack of power. 0 home runs and 8 RBI for a guy who has hit in 22 games is bad. For his contact hitting to balance out his lack of power, he will need to hit well over .300 with an OBP well over .400. He has shown he is capable of that in spurts, but can he do it over the entire second half? All we can do is wait and see.
Do you feel like any players were snubbed? Do you feel like any don't belong on this list? Well, tune in to PLW on Twitch Monday through Friday at 6 PM Pacific, and I'll be there in the chat to argue my takes. And with that, thank you for reading, and I hope you're looking forward to the second half as much as I am!