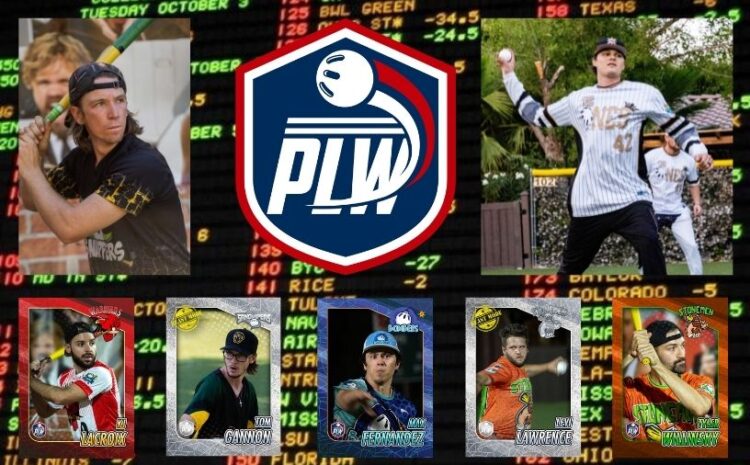 Odds to win Season 2 of the PLW – Updated 7/18/2021
The Contenders

The Ones +200: The Ones had a busy week or so by winning 4 straight series including getting some revenge over the Sandvipers on Saturday night by taking two of three. They improved to 30-9 on the season, in 1st place, and they control their own destiny with one series left against the Bombers. With a sweep, they'll lock up the #1 seed heading into the playoffs. In a season where scoring is way up, The Ones have 3 pitchers in the top 6 in ERA. It's what gives them the edge as the favorites to win it all.

Snappers +250: A 4-2 week for the Snapper has them at 26-10 and in 2nd place overall. They swept the Bombers but lost 2 of 3 to the league leading The Ones. Taylor Bryner and Shane Weber continue to power the Snappers into victories but their pitching depth might be a little weaker than we thought heading into the playoffs. Weber is sporting a 13.02 ERA following a season where he had a 3.48 ERA. He's taken a serious step back in that department, and even with Jonathan Wilson eating up some innings and pitching effectively more often than not, If Bryner can't be totally dominant in the playoffs, this team doesn't have the depth on the hill to repeat as champs.

Sandvipers +275: The Sandvipers played just one series this week, dropping two of three to the first place The Ones. The Ones showed they can compete with the Sandvipers and made sure everyone knows it. The Sandvipers sit at 14-10 and comfortably in 3rd place still. They appear to pretty much be locked in that spot despite still having 18 games to play. They'd have to go 12-0 in their next 4 series to catch the Snappers but go 1-8 for the Legends to catch them. So they very likely have a date with the #2 seed in the first round of the playoffs. If The Ones handle the Bombers, we're gonna be treated to a Snappers/Sandvipers 3-game series for a shot in the championship series.
The Pretenders

Night Owls +650: The Night Owls played two series this week going 3-3 bringing their record to 17-22 and in 5th place. On Thursday they dropped two of three to the Legends without their ace James Stein. 3 high scoring games were played with both teams scoring 26 runs each in the series but the Legends got the two wins. We saw what a Stein-less Night Owls team looks like vs a good offense and it wasn't great. Without Stein they may have trouble winning in the playoffs. Rumor has it Stein will be unavailable for the wild card game which the Night Owls are very likely to be competing in. Brandon Maio is going to have to channel his inner ace he displayed last season to give this team a shot.

Legends: +1000: The Legends played two series this week going 3-3 and now sit at 15-18 and in 4th place. The Legends continue to put up a lot of runs in games but are still having issues getting guys out. Their team ERA is now up to 9.79, 6th in the league and only ahead of the Bombers and Stonemen. Their offense top to bottom is very tough to handle, but if their staff doesn't find a way to keep their opponents at bay, they don't really have what it takes to make a deep run in the playoffs.
Relegation Risks

Warbirds: +10000: The Warbirds find themselves at 10-19-1 and in 6th place following a 1-2 week. Peter Mocabee made the series vs The Ones but they couldn't quite pull out a series win. They have a huge uphill battle against them the rest of the way including 6 against the Sandvipers coming up. They're going to have to find a way to win a lot of games in a hurry if they wanna snag that last playoff spot but it's looking more and more like they're going to be in that one game playoff to avoid a seat in the challengers tourney.

Stone Men: +20000: The Stonemen are in a similar position to the Warbirds as they're now 11-21-1 and in 7th place. If they go 6-0 in their next two series they would actually jump over the Night Owls for the 5 seed. With series against the Warbirds, Night Owls, and Bombers left, there is a small chance they squeak into that #5 spot but we're going to have to see some uncharacteristic play out of them. They have no room for error and probably can't go worse than 7-2 in their last 9 if they want any shot at the playoffs this year. More likely than not, they're going to be battling the Warbirds in that one game playoff for the second season in a row and are going to hope to avoid having to compete in that challengers tourney for their PLW spot.

Bombers: +50000: The Bombers odds plummeted this week after being swept easily by the Snappers. They now sit at 8-22 and in 8th place. Despite having 12 games left, they're likely eliminated from playoff contention. They need to basically win out and with 9 games left against the Sandvipers and The Ones, it's just not gonna happen. This team should still have plenty of motivation though, the 6 or 7 seed is still very open for them, and if they could that one game playoff, they could avoid the challengers tourney.
***Odds are for entertainment purposes only***