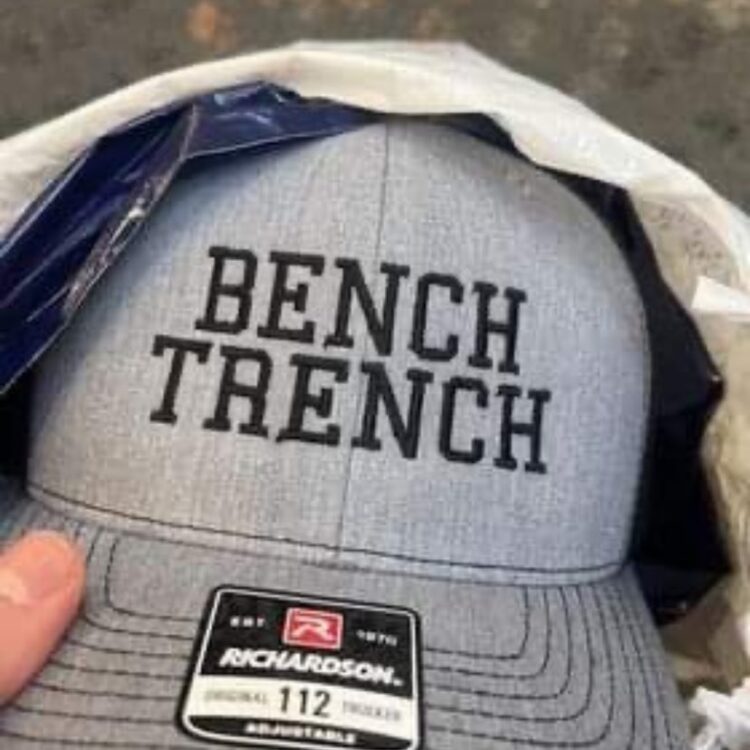 It was Zack a.k.a. White Boy Rick 's third or fourth day watching PLW when he decided to first gamble his wiffle points. He had worked his way up to about 10,000 points, and he was trying to save them up. However, Trench Picone, who was announcing the series, decided to give some betting advice.
"Bet the house on this pitcher."
Neither Trench nor Zack remember which pitcher Trench referenced. Neither even remember who was playing in that series. Still, Zack watched Trench take out his phone and bet 20,000 wiffle points. Zack mimicked Trench's bet with all 10,000 of his points.
About an hour later, Trench and Zack had lost a combined 30,000 wiffle points. Trench's betting advice was wrong, and Zack couldn't believe it. He decided to put his first message into the chat:
"Bench Trench."
Zack was only 17 years old when he arrived at Charleston RiverDogs summer camp. The 6'6" catcher was oversized and lanky, but if he had proved anything, it's that he could play. The New York Yankees organization knew he had a childhood attachment to Ohio, so convincing him to abandon his Ohio State University commitment for minor league camp was likely more of a challenge with him than other prospects. But the Yankees were the Yankees, and they knew they were almost impossible to refuse, especially for a kid who was still in high school.
So, Zack didn't refuse. He put his dreams of playing at Ohio State behind him and chose to forgo his amateur status for a chance to play in the minor leagues.
In a baseball movie, this is the part where the 17-year-old kid begins playing well. He moves up through the system and eventually accomplishes his life goal of playing for the Yankees in front of crowds of 50,000 every night. Not to mention the extreme wealth that comes with being a major league player.
Life, sadly, is not a baseball movie. Even as a minor leaguer, chances are your baseball career won't pan out in the way you hope. And unfortunately for Zack, he fell victim to issues that are all too common for teenagers.
Partying. Minimal work ethic. Poor decision-making. Doing what you want to do instead of what you need to do. And as his day-to-day routine began to look more like this, his performance suffered tremendously.
By the end of that summer, Zack just had to keep himself together enough to grab a bullpen catcher role. He wouldn't have to play or even practice very often. All he had to do was catch bullpens and he would make a few hundred thousand dollars.
He couldn't do it. Zack left his playing career behind him before he was even an adult.
A few years later, Zack was at a strip club in South Carolina with a few of his friends. The group were regulars, with most of them going to the club every night. They had a reputation as big spenders, which added up because all of them were in the NFL. Well, all except one. Zack was throwing money at the same rate as top-level pro athletes. The dancers obviously didn't mind, but eventually a few of the guys in the NFL started to notice his impressive spending. They decided to nickname him after the young, white, big-spending Detroit figurehead whose friends were all black: White Boy Rick.
The nickname stuck. Even as his life slowed down and his strip club days ended, he was still White Boy Rick. Even when he got married and had his first child, he was still White Boy Rick.
As the years passed, White Boy Rick realized how much he missed baseball. With his playing career over, he started umpiring just to get back on the diamond. Like most former players, he did whatever he could to fill the hole baseball left. One day, White Boy Rick was on TikTok, his favorite app, when he came across PLW. He was very intrigued, so he checked out the Twitch stream. The alternate angles, replays, and every other benefit of Twitch interested him enough to come back for a few days.
Within those few days, "Bench Trench" was born.
"Bench Trench" caught on in the community almost immediately. What began as White Boy Rick incessantly roasting Trench had turned into a common PLW phrase. Perhaps the rhyming is catchy, or perhaps it was because Trench had a tough start to the season at the plate. Regardless of the reason, people were saying "Bench Trench" in the Twitch chat nonstop. If Trench made a play, it was "Bench Trench." If he was pitching, it was "Bench Trench." All the while White Boy Rick was still placing intricate yet satirical jokes about Trench in the chat.
As this chat movement continued, Trench noticed White Boy Rick. It started with Trench making occasional comments about White Boy Rick when he was announcing. Within a few days, Trench was getting into long back-and-forths with White Boy Rick while commentating games. White Boy Rick would send a joking insult, and Trench would roast him right back from the booth. Viewers quickly knew that Trench and White Boy Rick had a rivalry. People would take sides in the chat, and White Boy Rick was often mentioned in the chat whenever Trench was playing. People joked that White Boy Rick was crying when Trench threw 6 scoreless innings, or that Trench had White Boy Rick's voice in his head if he played poorly. White Boy Rick eventually bought a "Bench Trench" emote, and it was used heavily by many viewers.
Then the trade happened.
No one expected Adam Tanic to trade his best friend. Trench was thought of as part of the Vipers core, possibly even more so than Gannon and Hicks, and he had just thrown a complete game shutout against the Cajuns. But one day in the booth, Trench received the word that he had been traded to the Legends. The Vipers were battling The Ones for the top of the league while the Legends were at the bottom of the league.
The chat was shocked, and White Boy Rick narrative of Trench needing to be benched went from a joke to a legitimate debate. In the Legends' first game with Trench, he wasn't in the lineup. Trench had been benched. Some people started to legitimately feel bad, but White Boy Rick was not slowing down, using his Bench Trench emote as much as ever.
Trench turned it up a notch the next time he commentated. He went out, bought a custom hat that read "#AntiWhiteBoyRick," and he wore it the entire broadcast while calling out White Boy Rick heavily throughout.
How did White Boy Rick respond? By buying a "Bench Trench" hat, of course.

Trench remained benched entering the Legends' series against his now ex-Vipers. People couldn't tell if he was legitimately upset. The chat was ruthless to him, the trade was ruthless to him, his old team was good, and his new team was bad. However, this series against the Vipers would turn everything around.
The Legends swept the Vipers. On paper, it made no sense. Trench had got revenge against Tanic, and viewers were loving it. And even better, they were playing again the next week.
Nearly everyone thought Tanic would come back for his revenge. Him and Gannon cut their hair and tried to make the team look more professional.
The Legends won the series 2-1, and they're 7-2 in their last 9 games. The Vipers are 1-8 in their last 9, falling 1 game beneath the Legends in the standings. Comparisons were made between Babe Ruth and Trench, as he has replicated the curse of the Great Bambino. As of right now, the Legends are still looking to continue their hot streak while the Vipers are the worst anyone has ever seen them.
When Trench and Zack sat down to talk via Zoom, the two were all smiles. They each wore their hats taunting one another, and despite a few light jabs, they chatted about their lives and backstories while often relating to and empathizing with each other. Zack talked about his family, baseball background, and life as a tattoo artist and photographer, while Trench discussed his animal rescue, the origin of PLW, and life on the Ranch with other players. They opened up about their individual struggles and goals. Although they'll have to maintain the façade of beef for the chat, the two got along surprisingly well.
Well, until one topic was brought up. When asked how many hits Zack would get off him in 10 pitches, Trench said zero. White Boy Rick said three. This was the most serious discussion they had. Trench discussed how baseball didn't necessarily translate to wiffle but admitted that he pitches to contact more than other pitchers. Zack conceded that his old baseball prowess doesn't mean he would easily hit Trench, but he said that if he squared one up, it was going way over the storage container. This conversation had no real conclusion, and Trench later brought it up while commentating a series the same evening. When he asked the viewers how many hits White Boy Rick would get off him, there were two common answers: zero and three.
Viewers and players would love if White Boy Rick was close enough to Hideaway Field for him and Trench to have a showdown. Instead, Zack is still a few thousand miles away in South Carolina. But don't worry. Zack has challenged Trench and promised that if Trench accepts, he will fly into Las Vegas to face Trench live on Twitch at Hideaway Field.
The ball is currently in Trench's court. He can make White Boy Rick put his money where his very, very big mouth is. It's safe to say we're all anxiously awaiting this matchup.