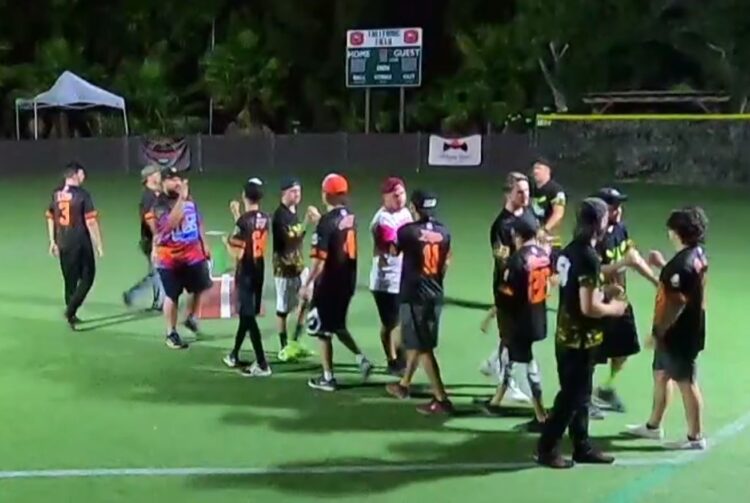 It was a rough night at Hideaway Field for the Night Owls on Thursday June 3rd.. Night Owls faced the Snappers in a three game series that proved grueling. Snappers took all three games in this championship rematch from season 1. Taylor Bryner, Shane Weber, Jonathan Wilson, and Jonny Castenda all rallied with homeruns. Jonny Castenda had three RBI's and two homeruns, as well as Shane Weber, with a RBI in the 5th. For the Night Owls, AJ Petrovsky started out going yard resulting in 2 RBI's, knocking in Matty Levine.
Matty, Nick Divella and Max Fernandez all had triples while Big Owl (Alain Fernandez) got his first homer of the season! James Stein pitched 4 1/2 innings with 9 strike outs and was relieved by Alex Carrasco to end the game. Unfortunately, none of this for the Night Owls was enough to the win the game. Game one ended with the Snappers winning 9-5.
In Game 2 Alex Carrasco started on the mound for the Night Owls with a total of 8 strike outs in four innings and was relieved by his brother, Max Fernandez, to end the game. Shane Weber put the Snappers on the board with a homerun, as well as knocking in Manny Santillanes for 2 RBI's in the first inning.
Taylor Bryner went yard in the 4th and Jonathan Wilson and Jonny Castenda (1single, 1 triple and 1 HR) both hit homers in the 5th. For the Night Owls, AJ Petrovsky hit another homer and Matty Levine and Max Fernandez both had singles and Nick Divella had 3 Singles and 1 RBI. Game 2 ended with a win for the Snappers and a score of 7-2.
In Game 3, Max Fernandez started on the bump for the Night Owls throwing 2 strike outs and was relieved by James Stein who completed the game with 7 strike outs. The Snappers, Jonathan Wilson, reach on base on a error, bringing Manny Santillanes to the plate to hit a triple and a RBI for the first score of the game. (1-0 Snappers).The Night Owls answered with Alex Carrasco hitting a double for 2 RBI's off Jonathan Wilson.
Wilson had 3 strike outs and was relieved by Delvin. In the second inning, Taylor Bryner and Shane Weber each went yard bringing the score to 3-2 Snappers. In the 4th inning Shane Weber, Manny Santillanes and Delvin all scored bringing the score to 6-2 Snappers. In the 5th inning James Stein of the Night Owls hit a homerun bringing in Nick Divella for 2 RBI's making the final score to 6-4. Taylor Bryner closed for the Snappers, giving them the win, sweeping all three games of the series.